Send Your Pictures
Here will be viewed pictures from the school, alumni classes, Jimma city and more. If you have pictures that you would like to share with everybody, please e-mail (
wubshetmam@yahoo.com
) or post them to FMSSAS and we will edit them on this page.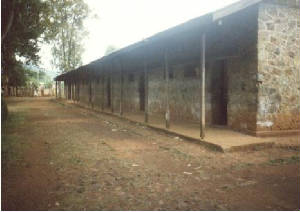 The northern part of the school ("lay ber"). Side view of class rooms. Picture taken in 1999.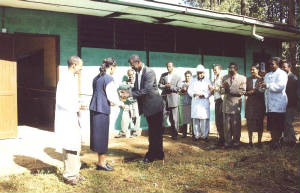 The FIRST computer learning center was opened in December 1999 and Dr Wubshet Mamo Chairman of FMSSAS was invited to officially mark the occasion.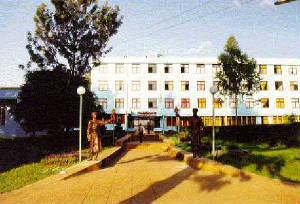 The Jimma University. Picture from 1998. It is an autonomous public higher educational institution established in December 1999 by the amalgamation of Jimma College of Agriculture (founded in 1952) and Jimma Institute of Health Sciences (established in 1983). It is Ethiopia's first innovative Community Oriented Educational Institution of higher learning located at Jimma Town.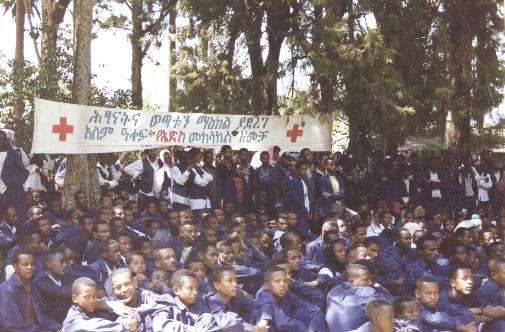 Like the other major towns in Ethiopia HIV/AIDS prevalence rate is also higher in Jimma town. Here Miazia students gathered to listen to the information on the danger of HIV/AIDS on World AIDS Day.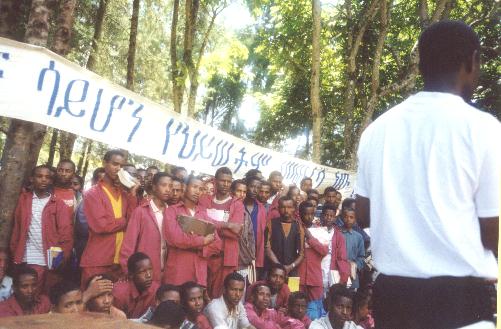 One of the commitments of FMSSAS is to assist the local schools in their campaign on prevention of HIV/AIDS. Here FMSSAS member (Wubshet Mamo) teaching students of the JIREN high school about the HIV mode of transmission and also prevention ways.
Students are always eager to learn more about HIV/AIDS. The school AIDS club together with the Jimma town AIDS club do important efforts in teaching the community on HIV/AIDS. Here Wubshet Mamo teaching about the HIV transmission ways to students in the campus.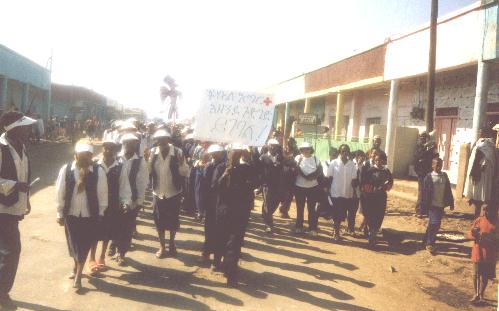 Organized by the school AIDS club and suported by the school administration the Miazia school students marching through the the Jimma town holding slogans and singing against HIV/AIDS.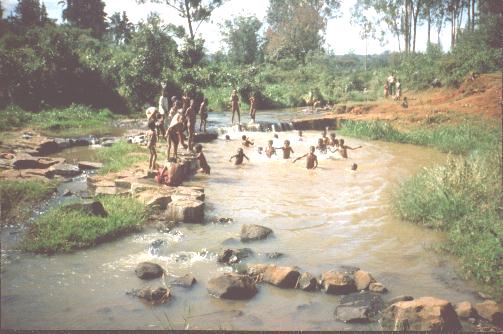 The famous "ADARI" river-swimming site. There is no swimming pool in Jimma, therefore the only way to learn swimming was by jumping into a small rivers like "Awetu" and struggle to float = "swimming". (picture taken in 1999)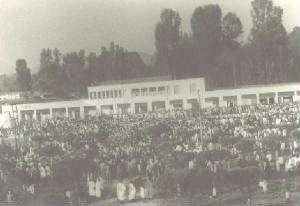 Public gathering at "adebabai". Adebabai was like the "red square" of Moscow, or the Traffalgar square of London, or the tiananmen square of Peking to the town of Jimma. Here took place public and religious celebrations, announcement of public declarations, public 13mm cinemas, revolutionary meetings, etc. Picture taken in1962.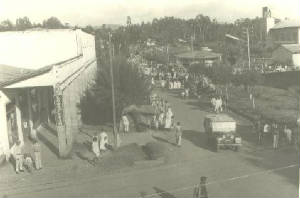 The main street (infront of the municipality) in Jimma in the 1962.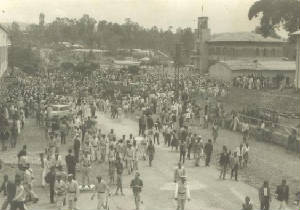 After the end up of a public celebration at "adebabai". Picture taken in 1962.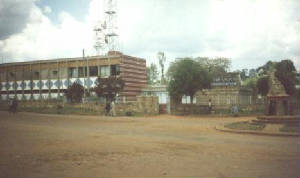 The Jimma telecommunication head office building. Picture taken in 1997
The main avenue in Jimma. Picture taken in 1999.
The Jimma city council ("ye hager astedader biro"). Picture taken in 1999.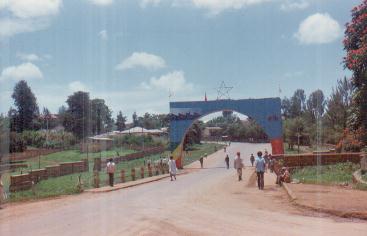 The road over Awetu bridge. Picture taken in 1976
____________________________________________________________________________________
Copyright © 2003 FMSSAS
All Rights Reserved