You Can Make a Positive Difference
In this page activities of individuals, associations or groups who make a positive difference for their former school, city or country will be edited. Please tell us about your initiatives and activities and share with your alumni friends.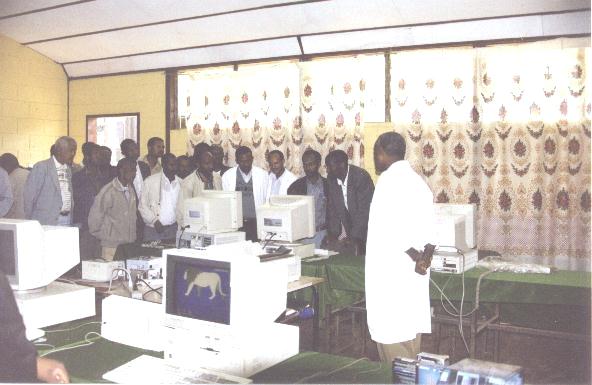 This computer teaching center has the capacity to accommodate up to 20 students at a time.
A computer learning center in the former Miazia 27 school
The donation of 15 computers (in 1998) by 2 former students of the school, Ato Teisir Aba-Jobir and Ato Zenab Aba-Jebel to their former school has opened a new chapter and brought light in to the school education system. Today, the school has its own computer-learning center unlike any high school in the region. The school is very proud of them and so grateful to their initiative.

35, 000 Books from the USA to the former Jimma Miazia 27 school
On March 2003, Miazia school has received 35,000 books worth approximately 4 millions Birr from an organization in the US called "Books for Africa". This donation was initiated and channelled through a former Miazian from New York, Ato Zenab Aba- Jebel. Again the school is very proud of Ato Zenab and is so grateful to his initiative.
Computers and internet accessories from Sweden to the former Miazia 27 school
On the 19 February 2003 the Association of Former Miazia School Students in Sweden (FMSSAS) has delivered plenty of high capacity computers, laser printer, Modems and other Internet accessories to the school. Part of these computers will be donated to the school anti-AIDS club and the other part to the school computer learning center. We hope that these equipment will enable the school students, teachers & staff to have more access to computers and to the international net work, Internet.
Acknowledgement: "YOUR contribution has made difference to the students and the school".
Many THANKS to the following alumni (and non alumni) who contributed their fair share that made the shipment (on 19 February 2003) of the computers and internet accessories from Sweden to the former Miazia school in Jimma possible.
Abdo Muslah (LA, USA)
Alemayehu Regassa (Gothemberg, Sweden)
Babu Asger Ali (SenaŠ, Yemen)
Beka Dura (Seattle, USA)
Birkenesh Begashaw (Stockholm, Sweden)
Dawit Furgassa (LA, USA)
Henok Tafesse (LA, USA)
Kibebe Tsehai (Stockholm, Sweden)
Lemma Gultie (Portland, USA)
Nunu Asger Ali (Stockholm, Sweden)
Shaebir Ali Mohammed (Chicago, USA)
Tamrat Biftu (Stockholm, Sweden)
Tsedale Alemu (LA, USA)
Wubshet Mamo (Stockholm, Sweden)
Yigzaw Tiku (LA, USA)
Yohannes Endeshaw (Atlanta, USA)
Zubeda Nuri (Maryland, USA)
____________________________________________________________________________________
Copyright © 2003 FMSSAS
All Rights Reserved